It's almost that time of year for all your "totally not basic" friends to whip out the #NewYearNewMe hashtag – who's excited, because I sure am. Looking back at 2015, aka looking back through my Insta feed because that's the only measure of time I have, I'm pretty proud of my style and how it's evolved. My wardrobe mirrors that of a trendy fuccboi, and I have no shame in my #ootd game. With that said, let's take a look at some of 2015's trend highlights. 
Wide Brim Hats
From Pharrell's Arby's hat, we've finally seen the Future – rather, we've been loving Future's influences on the hat game. The wide, flat brimmed fedora hats are turning heads, giving the stylish man more options for headwear than a snapback or a man bun, because those are sooo 2000 and late. We're anticipating Future's hat line coming soon.
Bomber Jackets
Yes, bomber jackets have been around since your mother's mother, but you can't help but see these bad boys everywhere. Trickling down from fashion week and influencing retailers, bombers jackets have no intention of leaving any time soon.

Length and Layers
The lines of our tees were similar to the lines to get in to 143 – long AF. However, I'll allow long lines on my tees. This year, we've embraced the layers, layering the long lines to ultimately have men in maxi shirt dresses by 2018. Just kidding (maybe).

High Fashion Activewear
Activewear has always been around for everyday needs; Nike, adidas,
and Under Armor succeed effortlessly based solely on their market of athletes. By the end of 2014, we had seen the beginning of activewear's collaborations with high fashion, such as with Alexander Wang's launch following his H&M collab. This year, athletic apparel companies have really gone the extra mile to become trend worthy among consumers with their simple pieces and branding trademarks – they really just did it, you know? Suddenly, you're seeing fashion bloggers wearing Nike Theas and wearing adidas sweaters, these same bloggers who ordinarily swear by that #boholife. Granted, big brands like these have been staples in fashion for years… But we'll just overlook that for the sake of this article, shhh.
The rise of activewear as everyday wear also benefited with the whole #fitlife thing, where everyone decided that being healthy and exercising was cool (who's idea was this?…). Not only do your gym clothes look fashionable, but you look fashionable in gym clothes as well.
I truly embraced this trend, but for slightly different purposes; by throwing on a pair of Flyknits with a pair of leggings and a sweater, an outfit that used to be deemed "lazy" is now known to be normcore athletic chic. I love convenient trends.
Yeezy Boosts
To forget about the Yeezy boosts in 2015 would be to forget about breathing everyday. Ok, that might have been a bit extreme, but the presence of the Yeezy Boosts were ever prevalent this year, and we can't forget it.
To me, the 350's remind me of speckled Roshes while the 750's remind me of Creative Recreations. The prices make me want to cry along with my student loans and have me calculating how many In-N-Out burgers I could buy (for the 350's and 750's respectively, about 195 and 116 cheeseburgers animal style, FYI).
But to each, his own, because I heard they're comfy AF.

Dad Caps
Alright, so if you haven't seen my rant on bucket hats, here's a small summary of my opinion on them: I hate them. 
Then, the athletic  dad cap came about and upon review, I concluded that I hated them as well. You know how five panels don't look good on some people because their head shapes are weird? I feel like there's even more room for error with athletic caps, especially because the one you found in your attic has weird proportions due to the fact that it was made for utilitarian purposes. Case dismissed.
One day though, I wanted to go out with the homies but didn't have time to wash my hair (shocker, girls don't wash their hair every day). My friend had a stupid athletic cap in his car and I put it on… only to realize that I looked adorable in them. From then on, I've been a fan. There are people who still wear disproportionate athletic caps and think they're really cute, but their heads just look like a flat volleyball, but hey, not everyone can be perfect (so I've heard).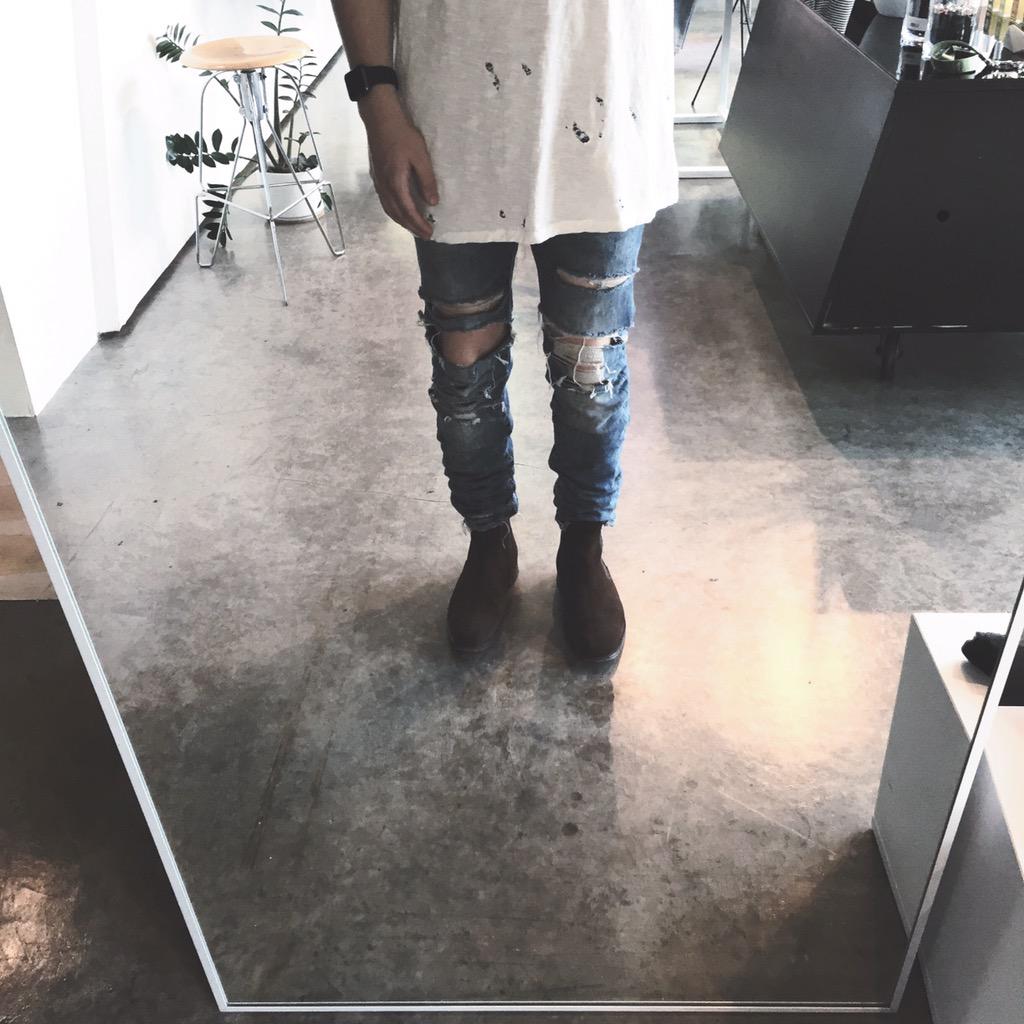 Distressed Denim
The only stresses that were consistent in 2015 were over student loans and the (di)stress in our jeans. Do you ever think that someone accidentally ran into a cheese grater in their ultra nice biker denim jeans and deemed it as fashion? Because that's exactly what I have in mind when I see distressed denim, whether it be pants, shirts, or jackets – please beware of cheese graters everyone.
On the real though, I found myself being influenced by those damn Jenners and wanting to wear distressed denim like One Teaspoon, except I can only wear these jeans on Sundays, 'cause they're so damn Hole-y (that joke reads better aloud, try it).
Oh, and also, raise your hand if you've been personally victimized by this situation:
Band Tees
I don't know who, how, or when the band tee thing became.. a thing, but lo and behold, it's reminiscent of 7th grade me begging my mom to get me a Panic! At the Disco shirt from Hot Topic. Louis Vuitton's rock inspired line for Paris Fashion Week 2016 surely influenced high fashion influencers that band tees were on. Too bad the authenticity behind the bands on the tees and the person wearing the tee probably lacked credibility… unless maybe JBiebs really DOES love Metallica.
Is there a collab coming in 2016? JBiebs ft. Metallica? What does this mean? Where are they now? Sorry, we just have so many questions.
Slides
I went to an athletically driven university, and 200% of the time, I would see athletes in slides and socks with basketball shorts or sweatpants – 150 days a year (bc we were on quarter systems) and on all genders. I thought they were lazy AF, and that thought hasn't really changed.
However, lazy has become chic *shocker*. Yes, slides have always been around, but their practicality and ease have made them more desirable for consumers, and with the growth and upswing of activewear becoming everyday wear, the simple slide has slid its way to the top as well. Companies like Nike and adidas continued to make slides, banking on their simple designs and trademarks, while other streetwear companies have also adopted the style. Supreme, Undefeated, Diamond and Stussy have embraced the trend, and we've seen the slides in Louis Vuitton and Gucci as well. In fact, it's become a movement; has anyone seen the hashtag for @SANDALBOYZ?
https://www.instagram.com/p/7mKOlZAiN1/
They're sliding out of your DMs and onto your feet with their line dropping in January – stay tuned!
Neutral Tones
Lastly, let's not forget our 2015 neutral tones color scheme that we can (fortunately or unfortunately) give partial credit to the Yeezy line aka The Walking Dead line. We got to see 50 shades of neutral tones, making blushes, pinks, mochas and olives the biggest colors of the season. Prepare yourself for 2016 with this Spring 2016 color report – the neutrals are staying strong #thatrosequartzthough.
Were there any trends you loved, you hated, or that I missed? Or maybe you have some predictions you want to make and look back on in December 2016, to say, "YASS I was right!" or "What was I thinking?" Feel free to comment below and express your thots,  oh and 1-800-HOTLINE-RING IN THE NEW YEAR!